SEYO, a European orchestra imbued with the spirit of «El Sistema», celebrates its 6th edition in Madrid with Acción por la Música and Sistema Europe
Uniting hundreds of talented young musicians and teachers from Sistema Europe's diverse network of programmes, Sistema Europe Youth Orchestra (SEYO) is a European orchestra infused with the spirit of El Sistema, the ground-breaking social inclusion project created in Venezuela over 40 years ago and now spread to over 70 countries worldwide.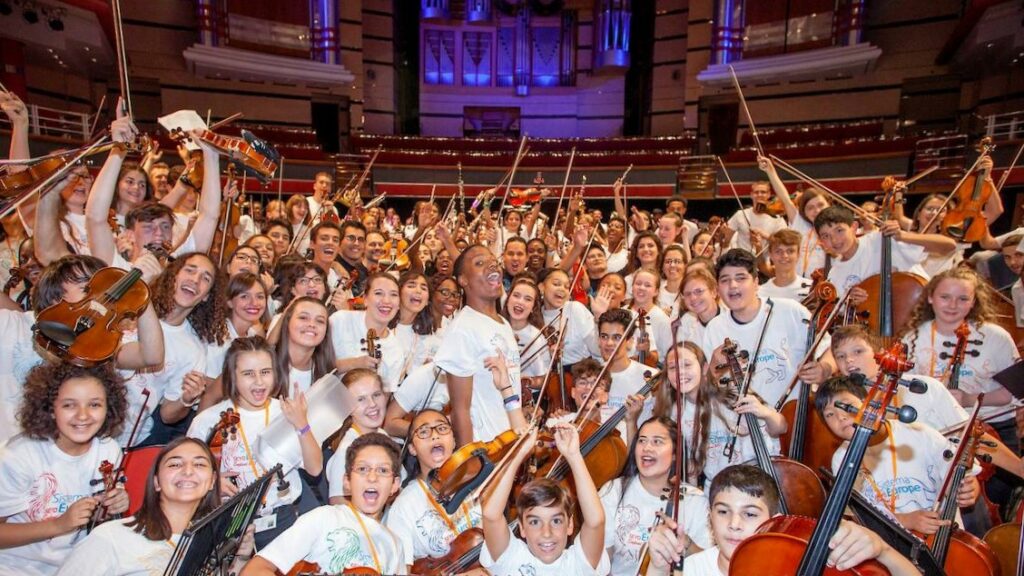 Characterised by the joyous celebrations of its young musicians, SEYO performances combine classical music with folk repertoire from various European and Latin American regions while also integrating cutting edge initiatives, such as Björk-visualiser Stephen Malinowski's interactive music animations.
An expression of the Sistema Europe network, since its establishment in 2013, SEYO has been overseen by Etienne Abelin, currently the Music Director of the Empire State Youth Orchestra (ESYO) and Co-founder of Superar Suisse, with the help of Juan-Carlos Maggiorani, Musical Director or Orchestra Geraçao in Portugal, and a number of representatives from other Sistema-inspired programs. SEYO's musical co-directors are appointed on a year-by-year basis.
SEYO: A brief history
SEYO's first summer residency took place in Austria in 2013 with the young musicians studying and playing between Vienna, Grafenegg and the Salzburg Festival. The Orchestra performed for the very first time a year later in Istanbul.
Since then, SEYO has held residencies in major cities and performed at La Scala in Milan (2015), the ancient Odeon of Herodes Atticus in Athens (2017) and at its most recent live edition at the Royal Birmingham Conservatoire, followed by concerts at the Birmingham's Symphony Hall and London's Royal Festival Hall in 2018, under the auspices and with the participation of eminent musicians such as Nicola Benedetti, Jessica Cottis, Joyce DiDonato and Gustavo Dudamel.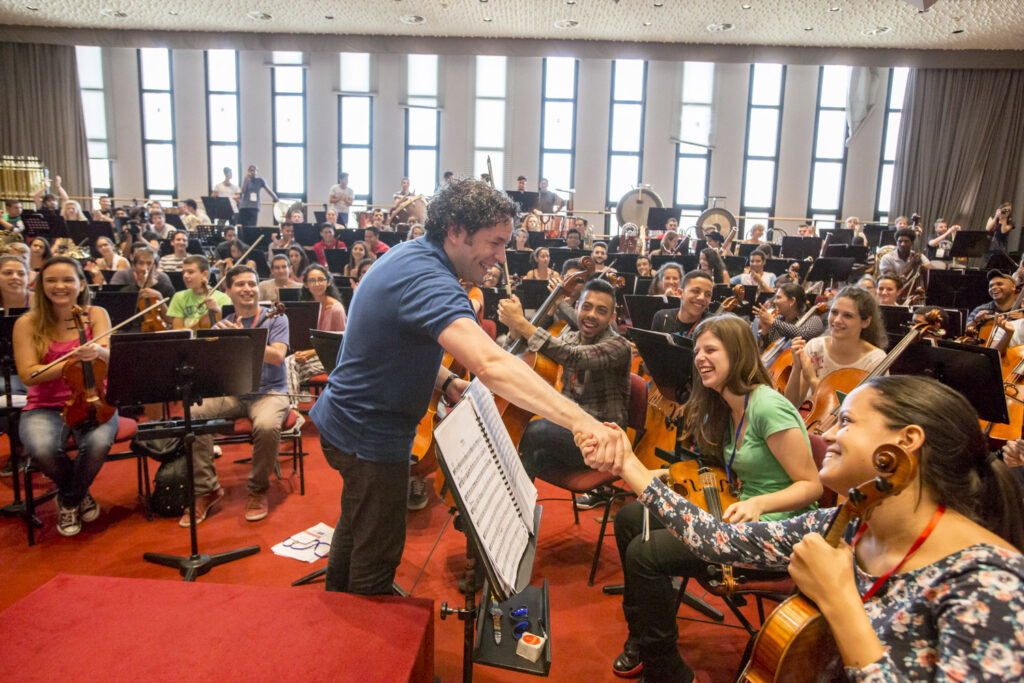 Acción por la Música: ambassador for the 6th edition of SEYO in Madrid
This July, Acción por la Música foundation has the honour of being ambassadors of the VI SEYO artistic residency in Madrid, (Spain) a meeting held two years later than initially planned due to the pandemic. For nine days, 140 young people from 17 European countries will participate in intensive rehearsals that will culminate with a concert at the National Auditorium on 14 July at 19.30h.
While the pandemic effectively suspended physical events for the last two years, projects championing music for social transformation have continued to thrive, adapting to new times and formats.
Last year, a virtual "SEYO SummerFest" took place online with guest participations from percussionist Dame Evelyn Glennie, Tik Tok star violinist Roberts Balanas and conductor Sacha Goetzel, soon-to-be the Music Director of the Orchestre National des Pays de la Loire, among others.
In February 2022, young music students from the Sistema initiatives from all over Europe reunited in Paris in order to participate in an ambitious and highly symbolic project: ODE – Orchestre Démos Europe. A week of rehearsals was followed by a performance at the Philharmonie de Paris' Grande Salle Pierre Boulez on 26 February 2022 where the 120-member orchestra appeared onstage for a unique concert held at the occasion of France's Presidency of the Council of the European Union, televised by ARTE. The project then travelled to Strasbourg for the occasion of Europe Day, when on 9 May the orchestra performed at the European Parliament as well as the Ópera national du Rhin.
BeMusic festival
Around the milestone that the SEYO meeting in Madrid represents, from Acción por la Música we have promoted the BeMusic festival, which will include a day of conversations around music and cultural rights on July 5 at the Casa Auditorio de Vacas from Parque del Retiro, and a street action on July 13 in the Plaza de Colón, which will bring together the SEYO orchestra and members of the Red de Escuelas Municipales de Música y Danza de Madrid and JORCAM – Joven Orquesta de la Comunidad de Madrid, among others.
The celebration of BeMusic festival and SEYO is possible thanks to the sponsorship and encouragement of Hilti foundation, Banco Sabadell foundation, Parques Reunidos foundation, Print Huellas, Ayuntamiento de Madrid, Ayuntamiento de Getafe, Madrid Futuro, Alto Comisionado contra la pobreza infantil, Red Música Social, Red de Escuelas Municipales de Música y Danza de Madrid, JORCAM (Joven Orquesta de la Comunidad de Madrid) y Universidad Carlos III.